This is - obviously - the driveway. There's room enough for two cars straight out from the garage doors, plus about three more between the street and the bushes. It's a big driveway for shoveling, so a snowblower may be in our future.
As you can see, a two-car attached garage. If there is anything that our first house would have to have, this is it. Melissa hates scraping and brushing off her car in the winter, so it was this or Florida.
A nice basketball hoop. Good place for me to work on my slam dunks.
To the right of the basketball hoop is a homey little walkway leading up to the front door. It's your standard red brick. Someday, we hope to put ground lights along the walkway.
Our lamppost and mailbox. The lamppost doesn't have a light yet, but we should have something in there soon. Yet another trip to Home Depot...
Getting closer......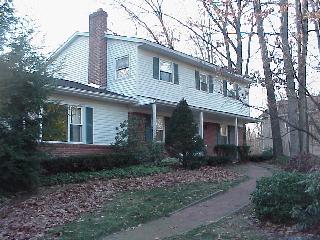 ....as the walkway leads up to the front of the house. You'll pass the outside of the family room first, then up to the front porch.
Nicely-sized front porch. Not many of these types of porches are used in our neighborhood, but they're good for plants and wicker chairs that you don't feel like sitting in.
Santa welcomes all visitors. Courtesy of Melissa's mother, we have a wonderful decoration for the front door during the holiday season.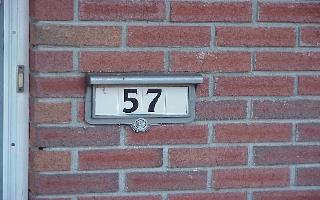 Just in case you forgot the house number, we live at #57.
Page updated February 27, 2000
Let's go inside.