Andy & Melissa's Disney Vacation
This was the vacation we had been saving for for about 4 years. It was really Melissa's idea to do Disney, but I was looking forward to it just as much. It was our first trip to Disneyworld. The trip consisted of two phases - 4 days at Disneyworld and 3 days on the Disney Wonder, one of their two cruise ships. The most important thing to do before you go to Disneyworld is to have a plan. It's really hard to wing it, so it's best to plan everything before you leave. You can buy a book (we used Birnbaum's guide) or go to Disney's web site (disney.go.com) and plan out your trip. There is just too much to see.
We've uploaded almost all of the 270+ pictures we took throughout the week and put them in our Yahoo Photos section. There are different photo albums for each of the parks we went to and one for our entire excursion on The Disney Wonder cruise ship. The "Disney Wonder" album includes pictures from the morning we left Port Orleans to head towards the cruise ship. I recommend using the slideshow feature to view them all.
We arrived in Orlando on the morning of Sunday, October 15th. We met Disney representatives right after we got off the plane. They escorted us to the motor coach that took us to our resort, Port Orleans. Port Orleans is a 1,008-room resort that has a historic French Quarter of New Orleans feel to it. The picture below is from behind the Port Orleans resort- taken from the Sassagoula River Cruise boat, which is one method of transporation between Port Orleans and Downtown Disney.
Animal Kingdom
We got into the Disney "campus" (47,000 acres all owned by Mickey) around noon time on Sunday. We had planned on going to Typhoon Lagoon, one of the water parks, but Disney was still delivering our luggage by the time we got to the hotel. The problem was that the luggage still had our swimsuits. So, we decided to hit Animal Kingdom first. The picture on the left is known as the Tree of Life. It's a man-made tree in the center of Animal Kingdom with over 300 animals carved into the trunk and branches. Underneath the tree is a theater where we saw "It's Tough to be a Bug". This was a 3-D show based on the movie "A Bug's Life". If you go to the Animal Kingdom, you MUST see this show. Let me say that it's very interactive and you will be recommending it to every stranger you see. The other parts of the park we'd suggest is the Dinosaur ride (a futuristic ride of Jurassic proportions), the Safari (a bus ride through an African safari), and the Lion King show. The Lion King show was a well-done Broadway-like show performing the songs from the movie. Animal Kingdom seemed to be very Lion King-oriented, as many of the items for sale had a picture of Simba on it somewhere. This was only the beginning....
Magic Kingdom
On Day 2, we were up at 7:00 am and off to the Magic Kingdom. Disney has several transport buses roaming from each hotel to each park all day long, so all we had to do was wait at the bus stop outside the hotel. The moment you walk in to the Magic Kingdom, you're looking down Main Street towards Cinderella's Castle. Our first stop was Adventureland where we did the Pirates of the Carribean ride. This must have been great about 10-15 years ago, but was your average ride in these technological times. We then went to Splash Mountain - a relatively long, but entertaining flume ride. The walkway towards the entrance is dangerous - only if you don't like getting wet. The walkway is a bridge that spans part of the ride and gets doused with a good shot of water - perfect for the 100-degree summer Florida sun. We also went to the Enchanted Tiki Room, which was another entertaining sit-down show, the Country Bear Jamboree, and Big Thunder Mountain Railroad. We did lunch on Tom Sawyer's Island while watching the Liberty Belle steamboat cruise around the lagoon. The afternoon was consumed by the Haunted Mansion, The Hall of Presidents, Space Mountain, the Buzz Lightyear ride, and the Alien Encounter - this was very much like the Bug's Life show (except scarier & more up-close) and was quite nerve-wracking. Sandwiched around all of these rides and attractions was the Magic Moments parade. This was filled with floats and characters of Disney's past and present. You will walk away from this parade knowing and memorizing the words to "Remember The Magic." Trust me.
We went to Downtown Disney that night for dinner at the Rainforest Cafe and a little shopping. The Rainforest Cafe is a great place! You feel like you're in a South American rain forest with thunder, lightning, rain, and various jungle animals joining you for dinner. Definitely worth it.
EPCOT
Day 3 was EPCOT day. We got a professional picture taken of us in front of the big Top Flite. Actually, it's known as Spaceship Earth, which is a slow-moving informational ride about the history of communication. This was THE picture we wanted, but we were unable to pick it up due to the HUGE crowds on the way out and that we wanted to get to the bus before they stopped running.
We first hit Test Track, which is a ride simulating the stress-testing part of an auto plant. You go from sharp turns and quick stops to a 65 mph sprint outside. I now know what the Northway feels like in a convertible. After that, we went to the Wonders of Life. This was an indoor attraction that had all sorts of fun and brain-teasing exercises. After the Wonders of Life, we went to The Garden Grille, a revolving restaurant where we got to meet Mickey and Chip & Dale. We then did a little shopping, watched the fountains behind Spaceship Earth dance to the music being played all over the park, and then went to the "Honey, I Shrunk the Audience" show. This is another interactive show where you feel like you're right in the middle of it. We toured the scientific Imagination center, where you can view and play more interactive learning games and find out more about yourself than you ever thought you'd know.
After Imagination, we did a quick lunch and went to Spaceship Earth. Basically, it's an indoor slow-moving ride which covers the history of communication. Definitely recommended. We then went to The Living Seas to learn a lot more about underwater life and exploration. Then it was off to the rest of the world. This took up the entire afternoon, starting around 2:00. We started in Canada (saw a 360-degree cinematic presentation on why we should visit Canada), then went to Millenium Village, which is an indoor pavilion of all different countries. Displays from countries like Brazil, Sweden, Nigeria, and other countries from around the world made up Millenium Central. It was here where we tried different foods from Africa - they were quite tasty!
After Millenium Central, we hit the rest of the EPCOT world. Starting in the UK, we moved to Italy, France, and Morocco, where we got something to eat. By the time we reached Japan (which is next door to Morocco), it was time for the Tapestry of Nations parade. This is yet another part of Disney's Millenium celebration. Some of the pictures you'll see of the parade pretty much show its content. The dancing puppets (one of which you see on the left) were done by the parade participants and danced all the way through the parade to music from Disney's Millenium celebration. The parade itself was actually done by 5 seperate groups simultaneously around the EPCOT lagoon - each starting in a different country and parading along the lagoon.
After the parade, we finished the circle of nations - going to the American Adventure(the United States) and seeing a nice production of our nation's history, then onto Italy, Germany, China, Norway (with a ride in a Nordic boat), and Mexico. The finale of our EPCOT journey was the Illuminations show. This was Disney's main presentation of their Millenium celebration. In the World Showcase Lagoon is a laser show set to Disney's millenium music. The picture below is our best view of it. A model of the Earth was the projection screen of a 10-minute film featruing scenes from all over the world. As the Earth rotated, lasers and fireworks lit up the night sky around it. The Earth opened to yet another fireworks display. A fascinating show! However, we needed to get a spot about an hour before it started - people were lined up six-deep from the edge of the lagoon and we're too short to see over everyone.
EPCOT was absoultely amazing. We walked through most of it, but didn't see as much as we wanted to. We need at least another day to get everything done. Our next trip will probably include EPCOT at least once. If you go to Disney, plan for a day or two at EPCOT. We only had the one day because of the excursion on the cruise ship, but it's probably best to do as much as you can in one day and finish the next. We got into the park at about 7:45am and left shortly after 9:30pm. This was the longest day we had. My feet were killing me.
MGM Studios
On day 4, we visited MGM Studios. While MGM is no EPCOT, it was definitely worth it, also. My feeling was that it was all or nothing at MGM. There were definite A+ attractions, combined with some duds. However, comparing MGM to EPCOT really isn't fair.....MGM had the feel of Hollywood in the 50s - not that I ever experienced the 50s, but I guess that's what it's supposed to look like. It was the era of malt shops and the beginning of rock 'n' roll.
You walk in and head down Hollywood Blvd past several gift shops and 50s-style Disney gear. Take a sharp right down Sunset Blvd to the end, and we begin at The Tower of Terror. This is a 199-foot-tall building that comes right out of The Twilight Zone. This is probably one of the more exciting thrill rides I've ever been on! It's an elevator ride that basically drops you from the top of the building in free-fall style. It brings you back up, and drops you again. Unless you're queasy or have any heart problems, this is a definite must. Right next door is the Aerosmith Rock 'n' Roller Coaster. It's an indoor coaster that takes you to the Aerosmith concert. The best part was the beginning - the ride starts you from 0-60 mph in 2 seconds! Talk about blast off.....
The rest of the day was pretty anti-climactic after that, but still fun, of course. After the Aerosmith concert, we went to see the Indiana Jones Stunt Spectacular (a show of how they did the stunts during the movies), Star Tours (which jossled me around too much), and then the Muppets 3-D show! This was just like the Bug's Life 3-D show at Animal Kingdom. If you love the Muppets, this is another must. After lunch, we got to see Melissa with her alterego, Goofy.
The next stop at MGM was the Backlot Studio tour. This was a small tram that drove you around the back parts of MGM Studios and showed you how things were done in the movies, old movie & TV sets, a great demo of how they start a fire with a gasoline truck (we got wet when they were putting it out), and a view into the costume shops. Before we actually went on the tour, we got to participate in a fun pre-tour demonstration. Melissa was a boat captain ready to attack and Andy was the first mate. The Disney helpers dressed us up in heavy rain gear and we got to drop bombs in an attempt to soak one another. The audience got a kick out of it. Once that and the backlot tour was finished, we toured the set of Home Improvement and then moved onto the Great Movie Ride. This was a slow-moving ride where we got a glimpse of Hollywood's movie-making history.
After the Great Movie Ride, we headed over to do a tour of Disney's animation studios. We got to see the real animators at work and even speak with one of the artists. The first Disney full-length animation done in Florida wasn't until recently - about 5-6 years ago.
It was now late afternoon and we had visited everywhere we planned on. We were building up to see the Fantasmic show, but had about 2+ hours to kill. So, we decided to see the stage show of Beauty and The Beast. That left us with 1.5 hours until Fantasmic, but that didn't stop us from getting in line. I was bored, so I hit the Aerosmith roller coaster again before the show. They started letting people in earlier than expected, so Melissa was waiting for me as the roller coaster finished. We then rushed into the venue for Fantasmic - outdoor ampitheater-like seating in front of a pond that seperated the audience from a man-made mountain stage. As we all waited for the show to start, we were treated to a performer doing a comedy/circus-like act, including balancing himself on top of a few chairs and haldwalking down the aisle next to us.
All I have to say about Fantasmic is one word - WOW!!! This is an amazing laser-imaged, broadway-like dance show as a spectacle of Disney past, present, and future. The pond in front of us had its own fountain system that shot water out in a semi-circle movie screen, where clips from many Disney movies were projected. There were also Disney-themed boats with performers going back & forth, as well as a laser/dance show going on on the mountain stage. I thought the Illuminations show at EPCOT was amazing - this was even better. We sat next to a lady who is a resident of Orlando and frequently comes to see the show. Her only reason for doing so is to see the enjoyment on the faces of those who haven't seen it. She definitely enjoyed watching us.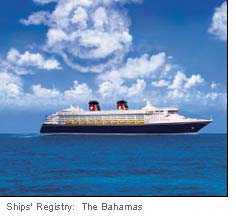 The Disney Wonder
On day 5 (Thursday), we began getting ready to board the cruise ship, The Disney Wonder. We ate breakfast at Boatwright's restaurant at Dixie Landings (the resort next door to Port Orleans) and then took the Sassagoula River cruise into Downtown Disney. Here we went to Disney Quest - a virtual reality, interactive experience (at least that's what the brochure calls it). I got to make and ride my own roller coaster - made myself a bit queasy - and Melissa became a virtual artist. We lost each other for an hour or so (I got caught up in the classic 80's-style video games like Pac Man and Space Invaders), but eventually found each other right before lunch. After lunch, we boarded the motor coach for Port Canaveral..
The Disney Wonder is an 85,000-ton cruise ship with 875 staterooms. It's registry is The Bahamas and sails out of Port Canaveral, FL for Nassau, Bahamas and Disney's own private island, Castaway Cay. We boarded the ship around 2:00 Thursday afternoon and went to our stateroom, which was on the outside with our own porthole. The cruise line took our luggage from our Port Orleans hotel room directly to the ship, so we didn't have to lug it all over. We were greeted at our stateroom by a cruise line representative responsible for our room. They were there to make sure we had everything we needed and also were the room's housekeeping. The ship left Port Canaveral around 4:00 in the afternoon and set sail for Nassau. We enjoyed the Bon Voyage deck party for a couple hours, then headed to a show in the "stunning" Walt Disney theater, where they had a show each night.
After the show, we ate dinner at Palo - a fancy, high-class Italian restaurant where the food was OUTSTANDING. Melissa loved the food so much, I don't think there's anything I can do to make her as happy as she was that night. We were stuffed. Dinner each night was typically in a different restaurant, but the same wait crew followed you from place to place. Palo was not part of this deal, but we didn't mind - the food was worth it.
The next morning, we woke up as the ship was pulling into port in Nassau. We headed to the top deck for a buffet breakfast and then into Nassau for some shopping. This is a high-pressure shopping environment, where vendors are on every street corner pushing the tourists towards their shop. We easily avoided the pressure, as we went into town and spent our money foolishly. Maybe not foolishly, as we got some t-shirts, bought some island music, a couple of delicious rum cakes (which we were told not to leave without), and even a couple of Christmas presents. On the way back to the ship, we found a junk band playing outside. They were kind enough to let me participate as the percussion section.
We ate lunch on the ship and then headed to one of the many excursions in Nassau offered by Disney - our first attempt at snorkeling. We boarded a boat right outside port and took a 45-minute trip towards the Atlantic. We swam with the fish for an hour, tried to get some decent pictures with an underwater camera (some came out OK), and then headed back to the ship. Swimming for that long kinda wore us down, so we crashed before dinner. This night, we went to Triton's. We met up with our wait staff and the other passengers at our table (in addition to the same wait staff each night, we sat at the same table with other passengers - a nice way to meet other people). After dinner, Melissa's eyes were a little irritated from the snorkeling, so I decided to do my own tour of the ship. I made a bee line for the ESPN Skybox and had a beer. I have a 32 oz. glass mug as proof that I visited. The Skybox wasn't as exciting as I had imagined. It felt like your everyday sports bar with two big screen TVs. Still, it was a nice place to hang out, watch the game, and have a beer. Since my watch was ruined by snorkeling (it was water resistant, not waterproof), I made my first-ever purchase of a Mickey Mouse watch. It's a Disney authentic Mickey watch with a gold background - very cool-looking.
Our third and final full day on the ship took us to Castaway Cay, Disney's own private island. Unfortunately, Saturday was pretty cloudy, even though the sun tried to poke through. If you're ever in the Carribean and you have a cloudy day, put the sunscreen on, anyway. The Carribean sun is much stronger than the one in the Northeast - we got burned. This didn't stop us from heading out. We got breakfast from room service and headed to the island around 10:00. Both of us had our own massages done in private Cabanas on the beach - very relaxing and worth the $30 it cost each of us. I also got to hang out on a beach hammock, which I plan on putting in my back yard someday. We then rented a couple of bicycles and rode around the island a bit. There is an old WWII-type landing strip along the bicycle trail, labelled with the island's name. I almost ran over a hermit crab, as well. We ate lunch on the adults-only beach and dropped some bread into the water in hopes for the fish to come (they never did). On our way back to the ship, we stopped at the main beach and hung out on some floaters in the water - I almost fell asleep. Overall, Castaway Cay wasn't a lot to write home about. The idea of it (I think) was to have a nice, relaxing day at the beach. We pretty much had that, but I think we expected a little more. Still, we saw a lot of families have a fun day at the beach.
We re-boarded the ship around 3:00 or so and went to hang out by the pool with a pina colada. Back to the room and we crashed again before dinner at Animator's Palate. This is a restaurant where you can see artists in action. Various pictures of Disney characters on the walls started out in black & white and slowly filled in with color. Even the wait staff started with black & white vests and changed into colored vests by the end of dinner. The whole dinner experience was fun and the kids definitely enjoyed it. After dinner, we enjoyed another show - a great production of a show called Disney Dreams. It encompassed all of the famous Disney themes (from Cinderella to The Lion King).
Unfortunately, we had to leave at some point. The ship docked back in Port Canaveral the next morning. We left our luggage outside our room Saturday night and met it as we got off the boat. Several airlines were actually waiting for passengers to come off the ship so they can check in the luggage and take it to the airport. The motor coach took us straight to the airport and we were on our way back home.
For someone who never really cared a lot for Disney, I WANT TO GO BACK. Melissa had always wanted to go to Disneyworld, but if I never went, my heart wouldn't have been broken. Now it'll break if I don't go back again. If you want a classic case of Disneyworld turning someone into a Disney fan - look at me. With many things to do, there's no way you can ever do them in one trip. We're planning on going back again in a few years (once we save enough money) and I really can't wait.
Go back to Andy & Melissa's home page